Tofino is located near the most productive Halibut and Salmon Fishing grounds on the Pacific Ocean. Tofino Fishing Charters have seen consistent Salmon and Halibut fishing for many years. Choosing a professional Fishing Guide will ensure you a successful and safe BC Salmon and Halibut fishing adventure. Most Tofino Charters operate 12 months a year on the West Coast of Vancouver Island. In the Pacific Northwest Coho Salmon is considered one of the premier Sport fishing species. Anglers of all ages enjoy the catch of these feisty sport fish often with light tackle in shallow water.
When the local Fishing Report in Winter calls for wind and large offshore swell, Tofino Fishing is still possible in the protected waters of Clayoquot Sound. Contact one of the Fishing Charters below to discuss the best day and time to go fishing. Catching fish is all about being in the right place and doing the right thing.
Tofino Adventure Fishing Tours: Some fishing charter guides are very flexible with their program and can combine wildlife viewing and even a visit to "Hot Springs Cove" North of Tofino. Grey whales, Eagles, sea lions and seals are often seen on our fertile Salmon fishing grounds, remember to bring along your camera as you might catch a glimpse of the bears searching the shoreline for mussels. The following Tofino Fishing Charters will take you where the Fish are...
Ospray Fishing Charters
450 Neill Street, Tofino
www.ospray.com
Phone: 250-725-2133
Toll Free: 1.888.286.3466
Email: shawn@ospray.com
10% discount for multiple day bookings
Visa and Mastercard welcome!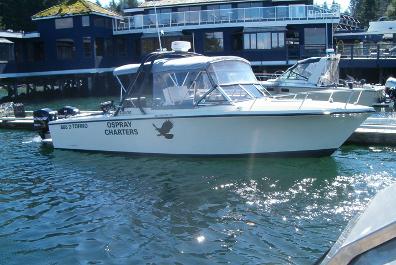 Since 1987 our focus at Ospray Fishing Charters has been to deliver the highest quality Tofino fishing charters as possible.
Winner of the 2011 Hooked on Miracles Fishing Derby
Winner of the 2017 Tofino Legion Fishing Derby.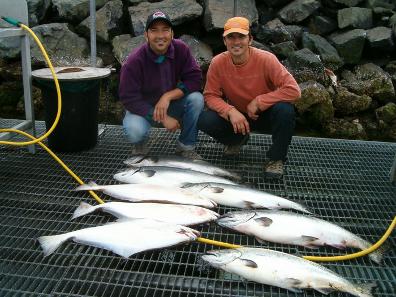 Adventures
Main Street, Tofino BC

Phone: Call or Text
Email:
Tofino Fishing Charter DEAL
20% Off your Tofino Fishing
Your local guide will take you fishing in Tofino on his 22" Yamaha powered fishing boat equipped with quality fishing gear.